Natural Gas to Revolutionize the Auto and Transportation Industry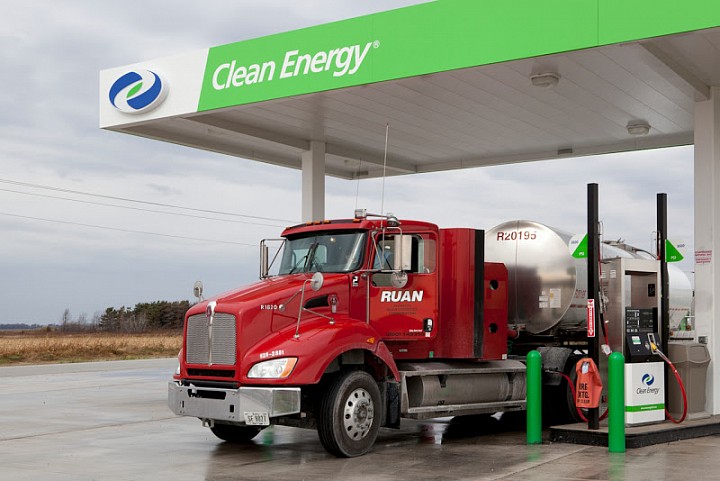 (Image Source: Fleets & Fuels) 
Those of you who regularly read my blog know I spend a lot of time talking about Hydraulic Fracking.  The United States has a large amount of natural gas in various rock formations across the country. Some would say we have an almost unlimited supply of nat gas, though this is not true. Natural gas can revolutionize the transportation and automobile industry, for one it is about 40% cheaper than gasoline and burns 30% cleaner. Clean Energy Fuels Corporation (NASDAQ:CLNE) is leading the change. This company is creating natural gas fueling stations across the United States and Canada. According to drivers, there is no difference in power between vehicles using nat gas and those using traditional gasoline. Drivers say that it drives just as powerful, smooth, same gas mileage, and same acceleration.
The natural gas market is expected to grow in the future as more trucks begin to use natural gas. Clean Energy Fuels is targeting 18 wheelers, the company currently has over 300 natural gas stations across North America. Clean Energy Fuels is developing "America's Natural Gas Highway," a massive project that aims to put nat gas stations along America's large trucking highways. Research shows that about 25% of the trucking industry would convert to natural gas by 2020. The only issue with natural gas vehicles is that they are more expensive. However, as they become more common and technology advances, they are expected to cost less. It is likely that the trucking industry would be the first to convert to natural gas since consumers are not willing to pay premium for nat gas vehicles.
This is an industry with significant potential. Clean Energy Fuels' stock is currently trading at $12.89 a share. Second quarter earnings show that revenues rose 26%. The company currently has no net profits.